Buying a new Porsche 911 ...and picking it up in Germany

My first car, a 1986 Porsche 911 Carrera, was purchased back in 1998 as I got out of college and moved on to the real world. It was my dream car, and the only logical choice for me at the time since I had been dreaming of this particular make and model since I was 8 years old. This year (2013) it became time to get a new car, and since I pretty much think the 911 is the perfect embodiment of performance and practicality, this would mean getting the latest variant of this historic sports car which is celebrating 50 years of production.
Ordering
April 5 14:00
I arrived at the Porsche dealer and was greeted by a sales manager who asked, probably as he does dozens of times a day, "Can I help you with anything?" My response was a simple "I would like to buy a new 911, please". That got his attention and he quickly grabbed another sales manager to take me over to his office desk with The Computer. The Computer would end up taking a lot of our collective time away, but little did I know. He asked if I knew what I wanted, and having done this research for months I listed off what I desired: 911 Carrera, Agate grey metallic, sunroof, manual transmission. That's all, please. No other fancy options. When The Computer started acting up and the process started taking a long time, this gave me a chance to peruse other 911s on the lot for some of the options they had suggested. They totally got that I wanted to eschew all the fanciness like upgraded sound system, but there were two options they mentioned I should at least consider. Slightly upgraded wheels, and the 14-way adjustable seats. I took some time to investigate these options on some of the cars there, and couldn't justify the seats (9-way adjustable is fine, thankyouverymuch), but the wheels were starting to look good to me. The stock wheel is a 19-inch with a sort-of 5-spoke look. One step up was a rather nifty looking 20-inch wheel, so I decided to add that option - the Carrera S 20-inch wheel. The last option I threw in was the Sport Design steering wheel; much better than the stock steering wheel and a bargain at only $250.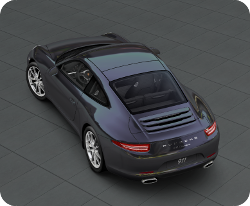 So, one order of: 2013 Porsche 911 Carrera, Agate Grey Metallic, black interior, manual transmission, sunroof, 20-inch Carrera S wheels, Sport Design steering wheel. The image at right is what it looked like in the Porsche configurator website. Click to embiggen.
There was, however, one last option that I had to have. This would be a $0 option. But it turned my visit into something interesting as I at one point had four sales guys trying to figure this option out and how to do it as quickly as possible. This would be the European delivery option. This is the option where they build your car then hold it at the factory, then you fly over to Germany, walk up to the factory and take delivery of your new 911 right there in Zuffenhausen. Porsche re-vamped their European delivery program back in February of 2012, and the sales guys at the dealer said since then they had never done a European delivery, hence the team effort to get this figured out. At first, the looks were not very encouraging. Furthermore, The Computer made things difficult by being about the speed of a 386 on a 2400-baud dial-up modem.
Eventually, someone suggested looking at "changeable" orders. These were orders that were already in the production line allocation but were similar enough to what I wanted that they could make some small changes and be able to deliver my car far, far earlier than the 5 months I was expecting. In fact, with the factory slowing down in July and August, this made my earliest delivery September or October, and at that point they were telling me I had to order a 2014 car, but they didn't even have that ability yet. Basically, my fears were they were going to tell me to come back in a month or two when they had the 2014 ordering set up, and place my order then. Having a 2013 car would mean a lot to me, as it is the 50th anniversary of the 911. Much to my surprise, they found a changeable order that was pretty much just what I wanted (911, manual, agate grey, sunroof), but the one in the system had some more options (those darn 14-way seats, and maybe a sound system upgrade). So to turn it into my car was no issue in the production line, and voila! Ok, so the car would be ready earlier, but what about picking it up in Germany?
The inventory manager knew a person down at the Atlanta headquarters of Porsche Cars North America to call about European delivery, and after being on the phone for a while and scribbling all sorts of things down on a sheet of paper, finally came over and said, "Well, you can't pick it up before May 13". Whoa. May 13. That's a little over a month away. I was expecting 5 months. This all started to get very real. There were a lot of possible dates listed in May and June, so it was up to me to decide now and get back to him after the weekend. May 22 or 23 were looking good.
The paperwork was eventually all printed, and I signed some forms, and signed a check to give my 10% deposit. One of the interesting bits about doing European delivery is that you have to pay the VAT, which is a non-small amount of money on a car of this price. Fortunately, I'll get it back once my car meets me back here in the States, but it is figured into the full purchase price which I will have to pay off about a month before delivery.
I left the dealer with a folder of copies of all my forms, and a really stupid grin on my face. Did I really just order a new 911? Crawling into my 27-year-old 911 seemed so odd at that point, like I was cheating on my car that has been with me so faithfully for 15 years.
April 5 19:00
I scan and email my passport to the sales guy - they need that for setting up the European delivery. I also picked the date I would prefer - May 22. Now it's a waiting game as I have to wait to get confirmation. Everything depends on locking in the pickup date. Before I know that date for certain I can't book flights, hotels, make arrangements for the house here, plan day trips, etc.
April 10 17:00
I headed over to the Porsche dealer on my way home from work to see if I could get an update on the pickup date, because I'm an anxious person by nature and would love to be able to lock in my airline tickets as soon as possible. Pat greeted me and said he'd call in to the lady down at PCNA right away, so we go over to his desk. A few minutes later we were able to get it all taken care of - May 22, 10am in Zuffenhausen. Now it's real. The guys at Porsche of Tyson's have really been taking care of business.
I learned a little more about the process, too. At a day approximately 4 weeks from pickup, I will go back into the dealer where they will present me with a whole information package about the European delivery, and at that time I will finalize payment of the car. I will also write a check for the VAT, but the dealer said they will just hold on to the check and then give it right back to me when I pick up the car Stateside. Delivery of the car to my local dealer will probably be 3 or 4 weeks after I fly back home from Germany - apparently boats take some amount of time to cross the Atlantic and stuff.
It looks like I will be able to buy plane tickets tonight, then start planning day trips and hotel stays as I wait until some day around April 22 to go back in to the dealer to settle up.
Travel Arrangements
April 14
My wife is great at planning itineraries, so it was nice that we were finally able to make some more travel arrangements. Flying out on a Monday afternoon, arriving in Munich the next morning. After spending the late morning and afternoon in Munich, we'll travel by train to Stuttgart, and check into our hotel (Schlossgarten). The next morning (Wednesday the 22nd) we'll taxi to the factory to have the tour, lunch, and pick up the car. For the next few days we'll be based out of Stuttgart, going on day trips out from there around the southwest part of Germany. The day before our flight out from Munich, we'll drop the car off back at the factory (Sunday), then take the train back to Munich to spend the night there, flying out the next morning (Monday).
April 15
I visited AAA to get an International Driver Permit. Very exciting.
April 24 12:00
Today marks exactly 4 weeks from the pickup date at the factory, and right on schedule I received a call from the local dealer stating that the rather large packet of information has arrived and is ready for pickup. This information details the pickup, includes the window sticker of the actual car, etc, etc. I'll be heading over to the dealer later to write a rather large check to finalize payment of the car (all paid off in full) as well as write another check to cover the VAT (however I will get the VAT back when I get the car back here in the States). It's getting kind of official now!
The final hotel in Munich for the last day has been booked, and the itineraries for the day trips out of Stuttgart are firming up. It's looking like a day to the northeast of Stuttgart (Rothenburg and Würzburg), a day in the black forest area (Baden-Baden and southwest), and perhaps a day driving into Zürich, Switzerland.
I'm also feverishly going through Rosetta Stone German to try to get a little working knowledge of German before the trip. Ich freue mich, nach Deutschland zu gehen!
April 24 18:00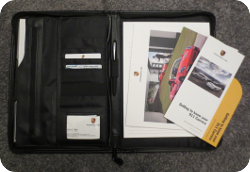 Stopped by the dealer after work and my sales representative had the leather portfolio waiting for me. This thing is amazing. Embossed with the Porsche logo and "European Delivery Program" on the front, inside I found a welcome letter with details about the pickup, hotel and taxi vouchers, brochure on the whole Euro delivery program, a book on the 25 best drives through Germany, a pad of paper and a nice pen, and best of all, the window sticker for my car! I paid my car off in full, wrote a separate check for the VAT (which I will get back once my car is in the States), and was all finished. My car has a VIN and is even noted as being in the status of "V300 - Exit production", which means it's all done! My car has been built and is now sitting patiently in Zuffenhausen waiting for me to arrive. All the sales guys at the dealer still can't get over how fast this has all happened. I'm very fortunate in my timing here.
April 29
I decided to add the European GPS data option for Delivery. I figured if we wanted to try to drive on back roads most of the time, a paper map with fine enough detail over the whole area we're covering may be hard to come by. Besides, it'd be nice at the end of the day to just punch in the hotel location and not worry about paper map navigation later at night. Total for this option is $250, but to my surprise the PCNA representative and my local sales guy worked it out to cover this cost for me! I love this company. It's like they actually want me to have a good time and stop worrying about things.
As I impatiently pass the time, there are a few places on the Intarwebs that have been keeping me busy:
Rennlist forums
YouTube video of the National Geographic Megafactories special about the 991 type
YouTube video of the epic "Are You Listening?" 993 promo
Departure!
May 20 14:30
The day has finally arrived for heading off to Germany. We leave for the airport and make our way to the gate with plenty of time, so it was off to a wine bar to try to relax and pass the time. The United flight into Munich was very smooth and went by pretty quickly with the personal DVR in the seat back infront of you. I had been through Munich airport before so I knew it was a nice one, and while we were there we picked out our train tickets that would take us to and from Stuttgart for the main part of the trip.
We took the S-Bahn into town to the Hauptbahnhof (main train station) and dropped our bags off in lockers since our train to Stuttgart wasn't until 15:30. We had about 7 hours to kill in Munich. We took some time walking down towards the Marienplatz, and found our way to the Glockenspeil restaurant overlooking the Marienplatz for a nice breakfast. We then headed to the Porsche Design store just for kicks, then went to Mike's Bike Tours to rent a couple bikes. If you're in Munich on a nice day, this is the way to do it. We rode up into the Englishgarten and stopped off at the Chinesischer Turm beer garden for a couple litres of Hofbrau Weißbier. It was then back to drop off the bikes and a stop at the Hofbrauhaus main hall for some snacks and more beer. Just enough time to walk back to the train station and hop on our ICE 515 to Stuttgart.
After a 2:15 train ride we arrived in Stuttgart and walked across the street to our hotel for the next five nights - the Althoff Hotel am Schlossgarten, which I highly recommend. It was one of the two that Porsche would reimburse for a night. We wandered the pedestrian area around the Schlossgarten and found a Spanish restaurant that I don't even remember the name of; it was one that I would pass on, but we were starving and tired. By this point we had been up for 32 hours or so, but I think that's the best way to adjust to the time difference - just power through the first day.
Delivery
May 22 9:00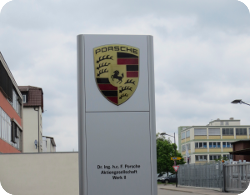 The big day had finally arrived. We took a taxi from the hotel to Porschestraße 40 in Zuffenhausen. This is one of the gates around the Porsche campus, and has the main entrance to the Factory Collection area. We were a bit early, so we went in and checked in, then were able to walk around to look at their Porsche Design Driver's Collection store, as well as the Exclusive consultation department which had some interesting displays of color and accent options. At about 9:45, our main contact arrived with some paperwork to fill out dealing with the temporary registration and insurance and other such administrivia. I was given a spare key at that point, and got to take a look at the tome that was the owner manual booklet. Oh my. It's a rather dense collection of booklets that could double as a self-defense weapon. The only slight snag so far is that I don't have the European GPS data loaded. For some reason the factory never got the change request from PCNA to add that option for me, so I'll have to follow up later with Jamie at PCNA to see what happened. I'll have to use the external Navigon GPS unit. Oh well.
At 10am sharp our tour guide arrived. No cameras are allowed in the factory, so we had to surrender our phones and camera. We were the only ones going on the English-speaking tour, so we had a personal tour! Volker (who later we learned was a 37-year Porsche veteran and has since retired but still does tours for fun) first took us to the Engine assembly building. We were taken around the "supermarket", which is the area that organizes all the incomping parts into bins, then eventually loads up carts for each individual engine being built. From the supermarket room, the engine parts take a ride on an automated cart system to a building next door where the engine lines are. There are two lines - one for the flat-sixes, and another for the V- configurations. We walked along a walkway above as our guide explained all the steps. We then exited this area to move on to the main production building...
This part was just overwhelming. This building is a multi-story behemoth with painted body shells coming in at the top, and they are built up as they make their way down through the floors. Near the bottom the body and the chassis come together with two zippered lines which is a sight to behold. I think the overall impression I had was that the 911 is still pretty much a hand-built car. There are a few robots that do some specialized steps (installation of window glass is the major one that comes to mind), but the vast majority of the work is done by skilled technicians. I loved the grey uniforms everyone were wearing. The whole factory tour was just amazing and I felt like a kid in a candy store. I probably could have kept asking questions all day, but there were other things to attend to. After the tour we were taken to the restaurant for a very nice three-course lunch. Walter Röhrl sat at the table next to us - he's a celebrity in the Porsche world.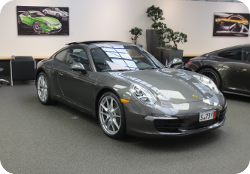 After lunch it was back to the Delivery center where my main contact greeted us and took us back to the small showroom where all the cars for the day's delivery were waiting. There were mostly 911s (a mix of coupes and cabriolets), and a Boxster and a couple of Caymans. I could pick mine out immediately. It was just so bizarre seeing a brand new 911 that was actually mine. A lot of hard work led up to this point, and I was not left wanting. It is the perfect car for me. Sure, it is a pretty basic 911 Carrera compared to some, but it's mine, and it was exactly how I wanted it.
It was about an hour-long process for the representative to explain all the computer functions and features of my car. Most of the time was spent on the small system display to the right of the tach, and the main PCM display. Then we went over things like how to get your trunk open if the battery completely fails, how to use the tire repair system (no spare tire here!), and all the buttons for the sunroof, A/C, etc. We had an official picture taken and it was presented to me in a nice little folder. After all the tutorials, it was time to leave - he handed me the key and told me to have a great trip. Wait, what? You mean I have to really drive this thing now? I was surprisingly quite nervous. The route out of the showroom was not trivial, and this was a new clutch and throttle that I had no feel for (my current 911 being 27 years old). I gingerly made my way out (without stalling) into the customer parking lot about a 100 yards away where I parked, got out, and took more pictures. 7km on the odometer.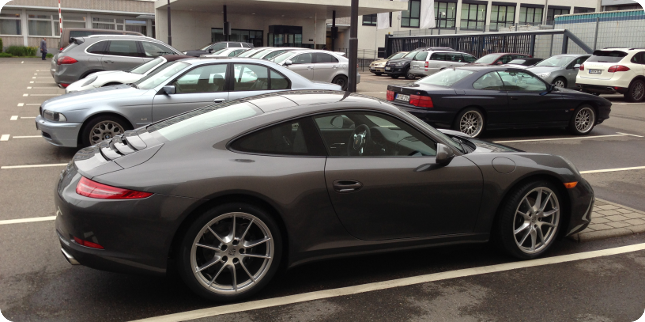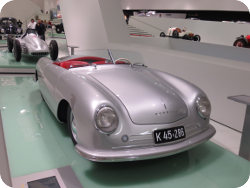 Then it was off to the Porsche Museum. The Porsche Museum is an interesting architectural achievement in itself. It's a large, angular glass and white rectangular thing held up in the air by a few support columns that you think defy gravity. Inside there is a twisting path around and up the building taking you through the history of Porsche, starting with early work before the Porsche name was even slapped onto a body shell. There was the "Porsche No. 1" - the first to have the name, many 356s, a nice grey early 911, all the way up to an interesting display on the wall showing how little the 911 has really changed over 50 years. Unfortunately we were about a month too early to see the new 50 years of 911 special display that they are putting together, so there were some sections blocked off (but at least our admission was half off).
After six hours it was time to leave the factory grounds and venture out.
Driving Around Germany
May 22 17:00 - Marbach am Neckar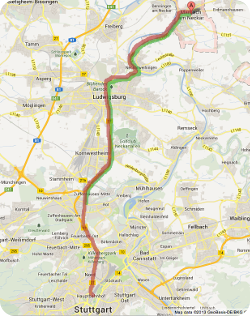 My wife and I had planned a few day's worth of trips, but the first one was planned deliberately to be very close to Zuffenhausen so I could avoid major highways and get a feel for my new car. We punched in a restaurant address for a place in Marbach am Neckar - just north and a bit east of the factory. We headed out, slowly, and made our way up to the first of many stops. It was also the first encounter with a parking garage. Needless to say I was a bundle of nerves. See, in America we're used to our wide open tracts of land that are parking areas, not a cave-like serpentine structure that looks like it was put in after the fact. Eventually I found a relatively safe-looking spot and was able to slowly walk away; anxious about leaving my brand new car in such a vulnerable position.
Once we got into the old part of town (altstadt) and it was pretty much dead. It was about 18:00 by this time, so all the shops were closed. We headed for a restaurant that we picked out back in the trip planning stages - the Glocke Restaurant at Marktstraße 48. This was indeed a restaurant covered in clocks as the name would suggest, and the menu was full of hearty foods. We managed to order and pay only speaking German so that was cool. The little bit of Rosetta Stone I had finished along with a phrase book worked wonders. Even though most of the Germans we encountered throughout the trip spoke English well, they seemed to really appreciate our initial efforts to use German.
After dinner it was back to the hotel in Stuttgart after extracting my car from the comically-small parking garage. Little did I know it would only get worse. When we got to the hotel we drove into their underground parking for the first time and it made the Marbach garage look palatial. This thing had random columns everywhere, weird curbs around all columns, parking spaces ranging from smart-car size to mini cooper size with random nooks and crannies marked as parking spots. I swear it took me 30 minutes to park. Eventually I found a really nice, relatively wide spot which I would use for the remaining nights of parking.
May 23 - Burgenstraße to Rothenburg ob der Tauber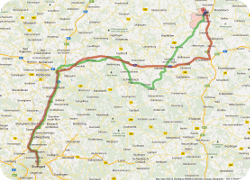 Up early today as this would be our first long day of driving! Grabbed a nice breakfast at the hotel, then it was off to find the A81 north to Heilbronn where we would catch what is known as the Burgenstraße (Castle Road). This is a trail through some back roads which supposedly leads through some picturesque German countryside which may or may not feature castles. Got off at exit 10 from the A81, took a left on B39, then eventually found L1036, which was actually marked with a little brown sign as being on the Burgenstraße. These little brown signs would end up being problematic, because I swear in some cruel trick they removed half of them along the route just to see what would happen. We made our way East towards Öhringen, Neuenstein, and then down South a bit to Schwäbisch Hall. Then the path took us North to Rothenburg ob der Tauber, which was the real destination for the afternoon to grab some lunch and wander. To be honest, the drive along the Castle Road was nice, but there were two negatives: The brown signs were frustratingly sparse, and there really weren't a lot of castles. I think I saw one. There were some nice vineyards along the way, a few curvy road portions, and apart from the frustrating navigation process, it was a nice drive.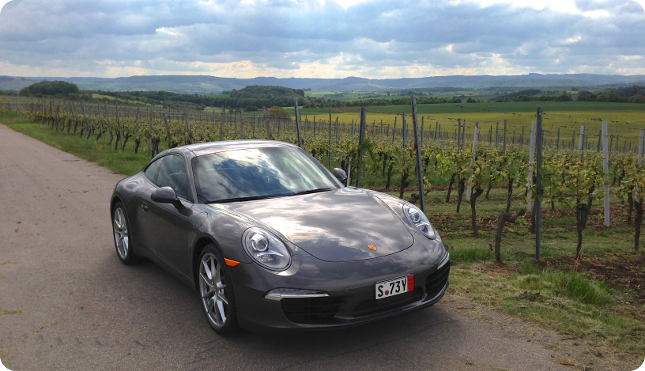 With a few stops along the way, I think it took about three hours to reach Rothenburg, and we arrived in time for lunch. Pro-tip: The parking in Rothenburg is awesome if you use the bus/car parking lot. We were the only car there with tons of space. Parking is €1 per hour. After parking, we first had to enter the walled part of the city through a bridge and gate, then we were into the mostly pedestrian-only section of the old town (Altstadt). First priority was finding lunch, so we walked up throught the Marktplatz and stopped at one of the many hotels (Reichskuechenmeister) for lunch in their restaurant. Sauerkraut, potatoes, and bratwursts were required, along with a few beers.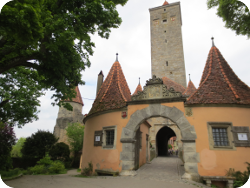 After lunch we proceeded to tour the city, visiting some touristy spots but also meandering around back alleys. There were a lot of tourists around, but if you go off the beaten path it's quite tranquil and quaint. We visited St. Jacob's Church and saw some amazing wood carving and stained glass. We walked outside the city wall for a bit to marvel at the engineering of it all. Then it was to the Christmas Shop. Wait, what? Yeah, there's some year-round Christmas stuff, so we got a tree ornament. A cup of coffee and some Schneebälle later, we were ready to depart.
On the way back, we decided to just head on the Autobahns for the quickest route back to Stuttgart - the E43 to the A6 and the A81. It started to rain, quite heavily at times, so it was a good opportunity to get to know my windshield wipers and the handling of the car at speed in the rain. I was still managing 100mph or so in the rain at times, so I can't complain.
This was my first full day with the car, and it went from sunny conditions on winding roads to rainy weather on the Autobahn. Overall I was quite impressed with the stability of the car, yet it was nimble for a vehicle so much larger than my older 911, but I learned early to stop comparing it to my old car. This new 911 is so drastically different that it is hard to compare individual elements with my 911 made 27 years before. The seats are incredibly comfortable, the clutch and shifter quite snappy, and the even though I've been keeping it under 4000 rpm, the throttle has quite a lot of response to move this larger vehicle. The interior ergonomics are fantastic, and I especially love the elevated shift knob.
May 24 - Baden-Baden, Schwarzwaldhochstraße, and Triberg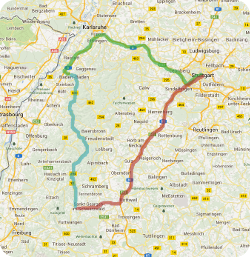 Each morning we would breakfast at the hotel, then head over to a little coffee shop to use their WiFi (free to customers). Turns out WiFi isn't as freely available as it is in the States, and the hotel wanted something crazy like €15 per day to use theirs. There we could check our email, and check on our upcoming route to the day's destination. Today would be a double waypoint of Baden-Baden then Triberg. Baden-Baden is known for its natural spas and baths, and Triberg is known for a waterfall and cuckoo clocks. It was off to the Autobahn to take the A8 and A5 to Baden-Baden.
The trip was pretty uneventful, with a few brushes with 100+ mph speeds. Traffic was heavy and there was a lot of construction, so the trip there wasn't anything to write home about. When we arrived at our first destination, parking was again an issue. This day it was pretty bad, because the first signs we saw seemed to direct us to a lot which turned out to be some private hospital lot. It was actually a bit scary driving into this garage, because it just kind of ended in a pitch-black lower level without an easy way to exit. After a very tense five minutes of confusion, I exited and we eventually found the real public parking garage, but it, too, had very tight spaces. I was able to find an end-space and it all had angle spots, which made me feel more comfortable. Overall, parking during this whole trip stressed me out more than anything.
My wife had the crazy notion of spending three hours at a bath house, so she went off to do that while I declined to walk around naked and more to the point, see people naked who might properly justify the invention of clothing. Instead I visited a coffee shop and brought my new car's owner manual with me to peruse. That took about an hour - seriously. There are volumes of books to review. Now I know the intricate steps on how to extract the car key in case the battery totally fails (because it won't let go if there is no power). After coffee I went to the Lowenbrau Restaurant for some Maultaschen and a beer. Another hour was taken up by wandering around the city streets until my wife was done bathing or whatever goes on there.
It was off to Triberg! This meant a nice drive South through the Black Forest, along route 500, which is called the Schwarzwaldhochstraße, or Black Forest High Pass. This is a twisting road up and down the mountains which was probably the best drive of the trip. It was getting quite cold this day, too, and the lowest temperature seen was 37 degrees Fahrenheit at the top! My summer tires held up OK, but it was weird to see snow on the trees in late May.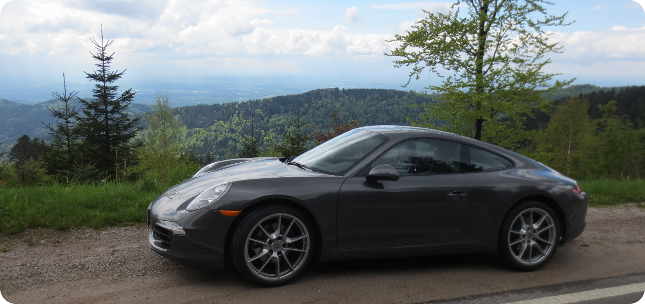 When we reached Triberg we found a really nice parking lot (by this point I'm freaked out about parking). A wide open lot with only three other cars in the whole thing. Ah, what a relief after the Baden-Baden garage fiasco. We headed down the street and found a nice place for dinner - The Tick-Tack-Stube; once again some wursts and beer were ordered. After dinner it was getting past 6pm so all the stores were closing down. My wife was dismayed that we couldn't visit a bakery and get the real Black Forest cake for dessert. This was definitely something odd at first since in the States places seem to stay open to 8 or 10pm even. We hopped back in the car and punched in the destination of the hotel to get us back. A few miles to the A81 and we were heading north back to Stuttgart.
Once parked in the one safe spot in the whole parking garage, we headed down the Königstraße to the Paulaner Restaurant for drinks.
May 25 - Heidelberg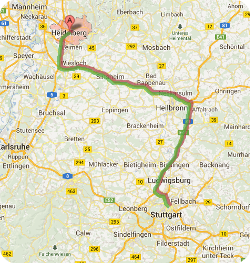 Today it was back up the A81 towards Heidelberg, a classic tourist stop. As usual, the parking garage was full of tight twists and turns, but I found a nice end spot with plenty of room. Whew. That's always the most nerve-racking part of all of these travels. We decided to walk up to the castle first and tour the grounds. It's quite impressive, but it was starting to get crowded with tourists, so we made our way down to the city to scope out some lunch options. Once you get off the main street, the city is actually quite pleasant. It seems like all of the toursist are confined to the Hauptstraße. Vetter Brewery was our stop, and we were only the second group in there. They brew their beer on site, so naturally we had to try a few, and order some bratwurst to wash it down.
Most of the day had been partly cloudy, but on the way back the weather was getting quite sunny again and the roads were completely dry and relatively free of traffic. This was my last big drive with the car, and I had this desire to break my land-speed record. When would I get another chance to drive as fast as I wanted on a public highway? On the A81 South it opened up and the speed limit was lifted, so I decided to go for it. For the past few days I had hit 110 even 120 once, so I knew the car was stable and wanted more. Slowly edging up I hit 135 mph - officially setting a new record for me. I was mindful of the 4000 rpm limit that I should be keeping for the first 2000 miles of break-in, so any faster would have been getting up in the revs. The car seems to hunker down and wanted to go faster - but this was enough for me. It was a great way to end the driving tour and a good story of enjoying the Autobahns.
After getting back to Stuttgart, we went out for drinks at Bar Lillet in the Le Meridien hotel. Lillet is an ingredient in the Vesper Martini, the famous drink of choice for James Bond. After cocktails, we arrived for dinner at Ochs'n Willi, for which we had made reservations weeks prior. It was a good thing, too, as the place was packed. Excellent, hearty food and drink. I highly recommend this restaurant. The waitress was quite patient with us as we tried to make it through the whole meal speaking only German.
Dropping Off
May 26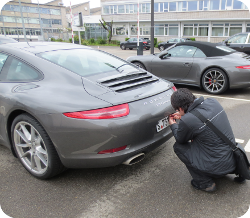 Sunday would be the last day with the car. It had certianly been a short trip, but we managed to pack a lot in and drive back roads and busy Autobahns. After the usual breakfast and checking out of the hotel, we left the parking garage for the last time and headed up to the factory in Zuffenhausen. Since it was Sunday the factory collection department wasn't open, but the guards at the gate would collect the necessary stuff. We parked the car, took a few last pictures, then I removed the license plates to keep as souveniers. The guards then had me sign a form, and they took one of the keys. That was it! They called a taxi for us, and this would be the last time I saw the car for a while. The mileage on the odometer read 1006 kilometers, meaning I put exactly 999 km on the car. I should have driven around the block a few times to make it an even thousand.
After we got back to the hotel, we walked around Stuttgart a bit, got some coffee, then went back to the hotel to collect our bags and it was off to the train station. We took the train back to Munich where we would spend the last night before leaving.
May 27 - Flight home
Took the S8 from Munich to the airport, checked in, got some breakfast, and eventually left Germany on our United flight home. A week-long trip that seemed a lot longer.
I put together a photo album of some of the good pictures we took during the trip: Enjoy!
The Wait
June 1
If there is one negative about the European Delivery Program it's that you have to drop your new car off and then ... wait. Weeks. You fly home and your car slowly makes its way through trains, boats, and trucks to eventually meet up with you again. I didn't think it would be this bad, but my impatience was at an eleven. It'd be different if you just ordered the car without Euro delivery and just had to wait two months to get it. But now, I've experienced the car.
Checking in with the dealer wasn't helping much either. It seemed like my car was stuck in "Transport to Emden" forever. Emden is the port in Germany from which it would be shipped - and usually the train to Emden would take a day. Porcessing in port can take a week, then the boat from Emden to Davisville would generally take two weeks, so it was weird that I was coming up on three weeks and my last status was still on its way to Emden. I spent my time checking marinetraffic.com to see which cargo ships were coming and going from Emden, thinking my car has to be on one of those.
I've been passing the time by making sure I have all the proper car care equipment. I've researched some new paint care products and purchased an array of new items; Griot's clay bar, P21 wax, OptiSeal, a new wash bucket, wash mitt, and plenty of microfiber cloths. It would be nice to get a water de-ionizer, but that piece of equipment is pretty pricey.
In the meantime I also took the European Delivery photo folder that I received with my car and one of the Stuttgart license plates to a local framer to create a large framed collection of the folder, the photo, the 911 rendering with the metal plate with details of my car, and the license plate. Should make a nice addition to the garage wall.
June 17
Three weeks and one day since dropping it off. One more email to check in with Jamie at Porsche Cars North America resulted in the best update ever! Instead of not even being at port yet, my car had already left on a cargo ship (Paradise Ace) on June 5th! It arrived in Rhode Island on June 14th, and would probably spend a week getting through customs and out of port. A truck ride down 95 later, it'll arrive at my dealer. So here's to hoping we're about just a week away from delivery at my local dealer!
When I arrived home this day I had a small package from Porsche waiting for me. It was a very nice welcome pack with a letter, DVD of tips about the car, a nice hardbound history book, a pen, and a card with all the 24-hour roadside assistance information. I believe I now have four Porsche pens collected throughout this process. Hey, if you buy a car they can throw in a few free pens.
Delivery (Part 2)
June 26 17:00
It's finally here! Exactly a month to the day since I dropped it off at the factory. Walked over to the dealer, met my sales person Bill, and he handed me the key. It arrived just a bit before noon, but they had to do the state safety inspection, detail it, and fill it up for me. When I got it home the first thing I did was swap out the orange side marker lights for clear ones. Much better.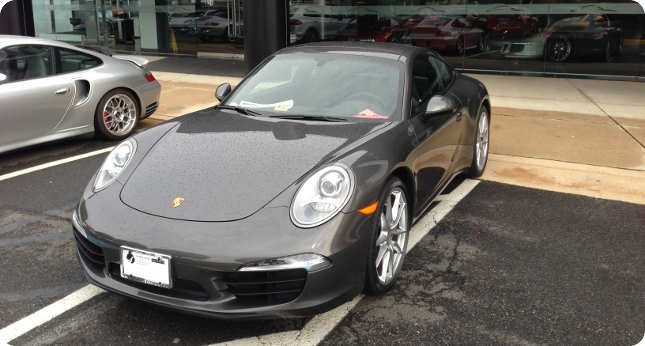 So ends a chapter that is a pretty special one all things considered. I always had this dream in the back of my mind of buying a new 911, but I never thought it would actually come to fruition. With a lot of hard work and a supportive wife, I was able to do this and I definitely don't take it for granted. Now on to my next era of Porsche ownership!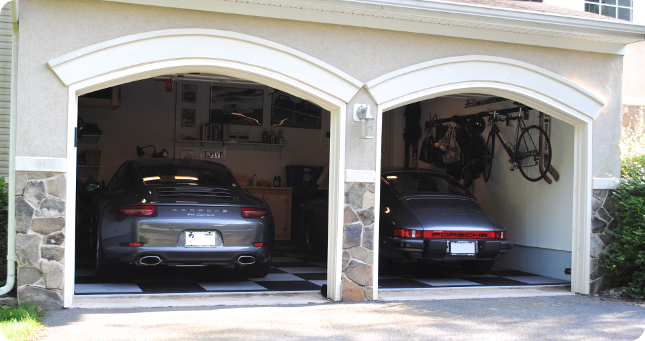 And my new car is finally parked in my garage next to its much older sibling.
Review
I thought it might be interesting to type up some thoughts after having driven the car for over 1600 miles now. I did order a rather stock 911, so I do not have a lot of the fancy options that are seen on some of the variants of this car, but the few options I did get were completely worth it. Since I'm still under 2000 miles, I have been keeping the revs under 4000 rpm, so I can't say much about the performance at the peak of the engine output.
Overall the ride is very nice and stable, almost no roll around corners, and the general feel of the car is one that is smaller in size. The light weight of the car really helps make the car just feel more nimble and completely belies the much larger overall dimensions.
7-speed manual transmission - I opted to keep it old-school and not venture into the world of PDK. While I have no doubt the PDK is amazing, I wanted to more closely match my older 911, so I wanted a manual transmission. The shifter is a dream - the position in the console along with the very short throw make shifting very easy. With 7 gears, however, it can be a little tricky sometimes and I have gotten lost and shifted in to the wrong gear on occasion; nothing drastic - mainly going up into 5th when I meant to get 3rd. On the tachometer there is an indicator of the current gear, which is very nice. The shifter has a neutral position that is right betwen 3rd and 4th. In the older G-15 transmission of my '86, neutral was anywhere between 1-2 and 3-4, so it would float around. In the new car, neutral snaps it right between 3rd and 4th. That makes it easier to register your starting place when shifting.
The clutch is still taking some getting used to, as I am accustomed to a very heavy unassisted clutch. This new one is so light that it takes some adjusting. The catch point is pretty much right in the middle of the pedal travel, which is a great thing to have. I have managed to stall a few times, but when you press the clutch in afterwards, the car immediately restarts - a very nice feature.
Steering - I know a lot of the reviews of the new 911 have focused on the new electric steering. Yes, there is no longer a hydraulic steering system. I find that the steering is really easy at low speeds, and stable at high speeds A lot of the high frequency vibrations have been filtered out, so that's where the disconnected feel comes to some, but I honestly don't mind it. I still get road feedback through the wheel, and my inputs are immediately translated into steering the car. Sure, it's a world of difference from my 1986 911, but that old car has power-nothing. The same people complaining about the new electric steering were also the ones complaining about the 1990 964 series which added traditional power steering. I think I honestly have more of an issue with electric throttle (it's no longer a cable attached to the throttle body), but nobody seemed to mind much when that came out.
Interior - It's spacious! The black interior is more of a dark grey, with bits of leather, alcantara, and leather-like plastic, with aluminum colored bits as accents. Very German in it's appearance - nothing flashy, things right where you want them, with a good fit and finish all around. I really like the new raised center console where the shifter is. The back seat is big enough to fit my daughter's car seat, so we've already had some family outings. The PCM screen is nice, but I don't really use the navigation at all, so I just keep the screen on the "Media" mode showing the current music being played off my iPod (which is hidden away in the glove compartment).
Sunroof - The sunroof is an amazing piece of engineering. It opens outside of the car, so there is more headroom inside. The entire top panel opens up, given a very wide sunroof opening, but it doesn't go back too far. It's been quite hot around here lately, so I haven't done much open-air driving, but to me the sunroof is an absolute requirement. Until the Targa version comes along, it's the perfect way to get some sun and air in while not having to worry about a cabriolet.
Sport Design steering wheel - I love this thing. So simple and elegant. I did not want buttons everywhere - steering wheels should be for steering. Definitely worth the $250 option price.
Modifications / maintenance
So far I have made the follow modifications:
Swapped out the orange side marker lights for clear LED lights
Covered up the annoying airbag warning stickers on the sun visors
As for maintenance, I've just been carefully washing and waxing the car like the obesssive person I am. I use Chemical Guys Citrus car wash, OptiSeal sealer, a caurnuba paste wax (P21), and AMMO NYC spray wax for frequent spot cleanings. For interior cleaning I use Griot's leather care on the seats, and Einszett console cleaner on the dash. I have more microfiber towels than I know what to do with.
I did my first oil change at 5,000 some odd miles. It turned out to be really easy once all the coverings were removed and an engine was discovered back there. Parts were about $85 total including 8 quarts of Mobil 0W-40 oil. Total time for the job was about 30 minutes.
Useful maintenance docs